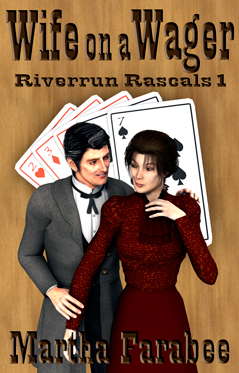 Wife on a Wager
Romance with a twist in 1890s Texas
Riverrun's residents are agog when spinster Mally Sue Millerton steps out withe the town doctor, but she's flabbergasted to discover other bachelor members of the community comin' acourtin'. They've never before paid her the slightest attention. What in the world do they want with a skinny, 42-year-old maiden lady?
All her life Mally's been a good girl and a Christian woman--though she learned a little from a long ago encounter with a wandering cowboy. But with a gossipy neighbor like Olive Turnipseed keepin' a sharp eye on her every move, she's never had other adventures.
Dr. Fairley Arbuthnot treats life as a joke, and he could tell her about the half-serious wager on who among his Saturday night poker buddies would be first to find a bride. He's ahead of the pack, having treated an intimate portion of her anatomy and glimpsed some right pleasant paddin' in certain locations. He plans on winnin' that ten-dollar gold piece when he marries her.
He succeeds, happily surprised to discover she conceals a passionate nature under her dark, bulky garments. They settle in peaceful matrimony--until Mally Sue overhears his buddies discussin' the bet. things heat up right quick, and the doc must find a sure cure for her hurt feelin's.
How to Buy
E-book can be purchased exclusively from Amazon (Kindle).