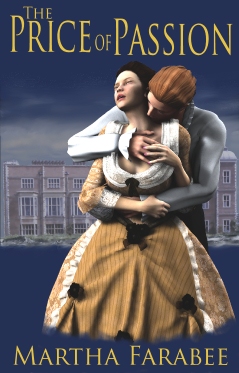 The Price of Passion
A proposal with an ulterior motive leads to love
A husband! That's the last thing Damaris wants. Her previous experience in husband-hunting left a bad taste in her mouth, and since then she's been too busy nursing her grandfather, worrying about her step-brother's bad heart, and trying to keep the manor from falling about their ears to consider the matter.
If her profligate progenitors hadn't wasted their substance, plain, skinny Damaris might have had a decent dowry, but she hasn't. She's stunned when her grandfather and his sister arrange her marriage to wealthy, handsome Edmund Lateler, a nearby landowner engaged in trade. Why on earth has he chosen her? When she meets the gentleman, she feels a twinge of desire, and he encourages her feelings for his own purposes.
Edmund intends to conceal his reasons for selecting this woman until he's wooed and won her. But he becomes suspicious of Damaris' warm relationship with her beautiful step-brother, believing she's enamored of him. When he discovers his betrothed in the young man's embrace, an infuriated Edmund treats his bride cruelly on their wedding night.
Despite their differences, Damaris gradually settles into a marriage of convenience, finding satisfaction and even passion therein, especially after she convinces him she never found passion with her step-brother. But her heart is shattered on discovering Edmund's real motives, and they quarrel. She returns home for her grandfather's funeral and falls into the clutches of an old enemy. Can she save herself or will a repentant Edmund arrive in time to rescue her?
How to Buy
E-Book can be purchased from Amazon (Kindle), Barnes and Noble (Nook), Apple iBookstore (iPad/iPhone), Kobo, and Smashwords.