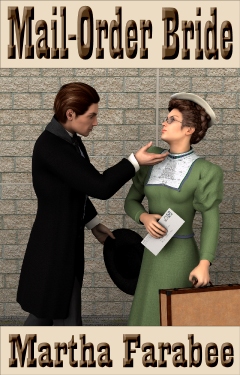 Mail-Order Bride
He gets more than just a wife from a catalog
Imagine ordering a husband from a catalog! But Annie's friend encourages her to correspond with a man seeking a wife—a prosperous banker living in faraway Texas. Then her self-centered, abusive step-brother knocks her down, and Annie finds a way to steal his money and flee half way across the country to Texas. There she finds refuge and a possible husband. She settles into a warm relation, and makes many friends. But back in her hometown, her step-brother robs her friend's house and takes Annie's letters. When a wanted poster appears in the local post office with her face on it, the gentleman, suspecting she has stolen the money, refuses to return the funds she has deposited in his bank.
When John Edwards reaches the age where he desires to settle down with a wife and a family, no females of marriageable age are available in Riverrun, so he advertises in a tabloid. He corresponds with a possible candidate, and when she arrives, finds her most satisfactory. But in addition to wealth and passion, she brings secrets, complications, and dangerous entanglements.
How to Buy
E-book can be purchased exclusively from Amazon (Kindle).