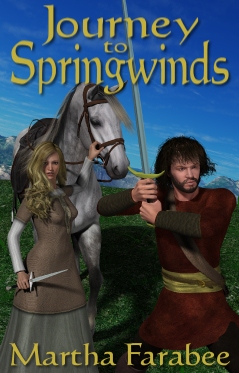 Journey to Springwinds
A lost princess, a proud prince, a dangerous journey
Orphaned OrnLeah lives on the charity of the King, working in the castle kitchen and serving the folk who visit. When Prince Mardrian arrives to pay court to the king's daughter, she never expects he'll notice her. But Mardrian repeatedly rescues her from the clutches of an evil pervert. Threatened from other directions, she decides she must leave. When deceived into bedding her, he's furious, but weds her.
As they travel to Mardrian's hold, raiders attack, attempting to abduct OrnLeah. The enemy's repelled, but strange incidents continue to threaten her. She believes he may wish to be rid of her. Mardrian prepares for battle when more raiders invade. Then she's attacked by a man who looks like her husband. He returns to find his unwanted wife close to death. How can he make her believe he didn't do it? How to discover the real culprit? Will he discover he really loves her?
How to Buy
E-Book can be purchased from Amazon (Kindle), Barnes and Noble (Nook), Apple iBookstore (iPad/iPhone), Kobo, and Smashwords.