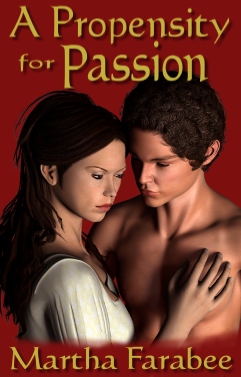 A Propensity for Passion
A large lady struggles to find love
Being almost six feet tall and weighing fifteen stone, Cecily's never expected to capture a husband--until Anse Dettrick finds her in tears over an insult from her dance partner. Pity overcomes his good judgment and he comforts her with a kiss. She returns the caress with fiery passion. But her uncle, along with the local squire and the parson, discover them. To his unmitigated fury, Anse is forced to marry her in spite of her adamant denials.
Dreadful secrets haunt her, but she conceals them from her husband, who seems to despise her, even while he enjoys her unrestrained response to his lust. Cecily begins to feel like a mistress, not a wife. Then she discovers his closet too conceals some interesting skeletons.
Why had he never informed her of his previous marriage? When had his first wife died? What about the child he didn't tell her of?
How to Buy
E-Book can be purchased from Amazon (Kindle), Barnes and Noble (Nook), Apple iBookstore (iPad/iPhone), Kobo, and Smashwords.