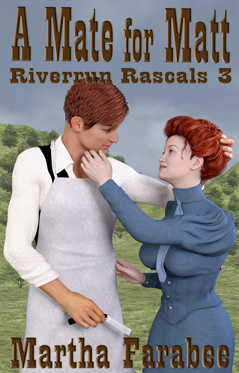 A Mate for Matt
A gorgeous redheaded doctor tangles with a prankster barber
Red-headed beauty Renata Jane Robinson is no one's idea of a doctor, but the eyes of every man in Riverrun are riveted on her as soon as she steps off the train. Whenever she appears they gawk at her. But after her experience with one fellow, she's erected an icy barrier which keeps them all at bay. No one dares approach until she tangles with an angry patient and loses half her hair. Matt Johnson, the local barber, treats her gently as he repairs the damage, and she feels warm toward him. Despite his pranks and jokes, a relationship with the rascal develops.
Meanwhile, the community must rally to search for the obstreperous patient who has fled. During the search Matt is injured, and the doctor rescues the barber and saves his life. Her own safety is jeopardized when the villain abducts her. The doctor frees herself by her own efforts and the patient is carried off to the doctors' clinic and dies of an ordinary disease.
How to Buy
E-book can be purchased exclusively from Amazon (Kindle).